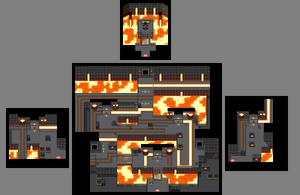 The Dronia Gym is the official Gym of Dronia City. It is based on Steel-type Pokémon. The Gym Leader is Stella. Trainers that defeat her receive the Forge Badge.
Appearance
The Gym is a metalworking factory filled with furnaces and vats of molten iron. There are channels along the floor for molten iron to flow down, and switches/valves that redirect flows. You can walk over empty channels, but you cannot pass over flowing iron, perhaps because safety rails rise out of the ground around channels in use. You need to make your way over the channels to Stella.
Trainers
157 Orett 057 Neureka
Trainer
Pokémon

Worker Bob
Reward: 760

Welder Gabriel
Reward: 760

Engineer Mateo
Reward: 912

Worker Emanuel
Reward: 800

Worker Alan
Reward: 800

 
Reward:

3000

Held item:

Metal Coat

Anvelid

♂

Lv.23
Items
Trivia
Ad blocker interference detected!
Wikia is a free-to-use site that makes money from advertising. We have a modified experience for viewers using ad blockers

Wikia is not accessible if you've made further modifications. Remove the custom ad blocker rule(s) and the page will load as expected.