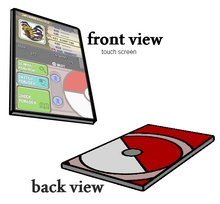 The Pokédex is a digital encyclopedia given by Professor Mangrove as an invaluable tool to Simon and Sofia to record data on the Pokémon found in Urobos.
For the full list of Pokémon, see Pokédex.
Pokédex entries typically describe a Pokémon in only two or three sentences. They may give background information on the habitat or activities of a Pokémon in the wild, or other information on the Pokémon's history or anatomy. Pokédex entries also include height and weight, cry, footprint, location, the Pokémon's sprite, and possibly more.
The current interface (the UI) is the default one that comes with Pokémon Essentials.
Ad blocker interference detected!
Wikia is a free-to-use site that makes money from advertising. We have a modified experience for viewers using ad blockers

Wikia is not accessible if you've made further modifications. Remove the custom ad blocker rule(s) and the page will load as expected.