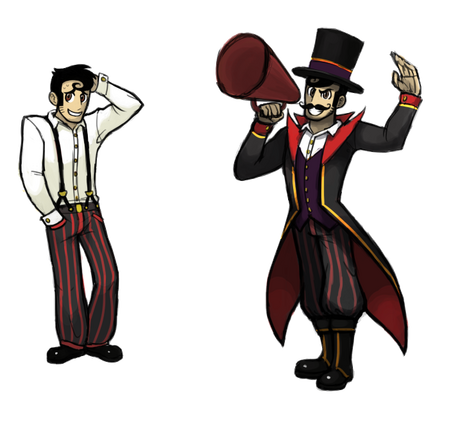 The Great Shadini is the Gym Leader of Vivace City's Gym, known officially as the Vivace Gym. He hands out the Jester Badge to trainers who defeat him in battle. He specializes in training Dark-type Pokémon.
Biography
The Great Shadini's real name is Oscar. On stage he is known as The Great Shadini. Oscar is actually incredibly timid and even struggles talking to the people. When performing on stage, however, he can actually talk to people with bravado and confidence.
Pokémon
His signature Pokémon is Howlequin.
Reward:

???
Rematch
Reward:

???
Trivia
The name Shadini is derived from the word shade, the suffix -ini likely deriving from Houdini, a famous escape-artist magician. The name Oscar comes from oscuridad, which is Spanish for "darkness".
Ad blocker interference detected!
Wikia is a free-to-use site that makes money from advertising. We have a modified experience for viewers using ad blockers

Wikia is not accessible if you've made further modifications. Remove the custom ad blocker rule(s) and the page will load as expected.