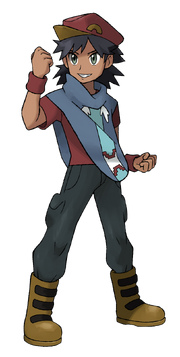 Simon is the canon name of the male choice for the player character in Pokémon Sage. He also serves as a rival in the game if the player chooses to play as the female character. His female counterpart is Sofia.
Role
If Simon is selected as the player character, he starts his journey in Dacapo Town in Urobos. He is given one of the three starters of the Urobos region. Simon goes on to gather the eight Badges of Urobos, stop the plans of Team Aurum and conquer the Pokémon League.
If Simon is not selected as the player, he will be the player's rival and friend. He begins his own journey at the same time as the player, receiving a starter at the same time as the player does.
Pokémon
First battle

If the player chose Foliat:
Reward:

150

If the player chose Kidling:
Reward:

150
If the player chose Aguade:
Reward:

150
Final
Trainer

Pokemon

Rival ???

Reward: ???

or or

Artwork
Sprites
Music
Demo 3
https://soundcloud.com/dewdneym/pokemon-sage-simon-sofia-1
Trivia
Ad blocker interference detected!
Wikia is a free-to-use site that makes money from advertising. We have a modified experience for viewers using ad blockers

Wikia is not accessible if you've made further modifications. Remove the custom ad blocker rule(s) and the page will load as expected.