Under Construction

This page is unfinished. Please add relevant images and information as it becomes available.
Trainer Classes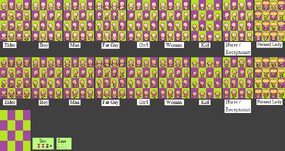 This page is for listing all of the current trainer classes and their sprites. For trainer sprites that have been voted out or deemed unusable, please see the Trainer Sprite Graveyard.
Gen /vp/ is attempting to use as much original material as possible. As such, when making a trainer sprite be sure to make it entirely from scratch. Splicing, or using parts from trainer sprites from the official games, is not allowed. This includes directly copy/pasting entire parts, recoloring parts, or even making small edits to them. Any sprite found to use parts from official trainer sprites will be immediately marked for removal and will be removed from the page once a completely original one is made.
When working on a trainer sprite keep in mind that, like Pokémon sprites, the color limit is 16 unique colors: transparency, white, black, and 13 other colors. If black or white is not being used, then that color space can be used for an extra color.
The table below lists the sprites currently drawn for most of our trainer classes. Each trainer class has one of the following labels depending on the status of its sprites:
[WIP] The sprite has been started, but isn't completed. Even if completed, it needs some fixing.
[Multiple Versions] Multiple versions of this Trainer Class have been done. This does not include the Trainer Class with regional differences.
[Complete] Complete does not mean official. It simply means the sprite is >90% complete and there is a general consensus that the quality is good enough.
[Recolor] A sprite that is a recolor of sprites used in past games. Recolors serve as placeholders and need original poses.
[SPLICED] Sprites that are made up of a combination of GF and custom parts. These require custom replacements.
---
Guidelines for addition:
Adding revised sprites: If a minor revision to a previous sprite has been made by someone other than the original sprite artist, post it in the thread first. If there is general approval, you may replace the current version listed.
Deleting old sprites: Do not delete older versions of a sprite unless there appears to be an overwhelming consensus on choosing a new sprite/revision over it. Multiple versions of sprites will be run against each other in surveys. Once a winner has been chosen, the loser should be moved to the Trainer Sprite Graveyard. Feel free to remove outdated sprites to the graveyard when a replacement has been made if the older sprite is over the color or size limit.
Battle Style refers to what kind of Pokémon the trainers specialize in. They don't usually variate from this pattern unless they are in a gym or a special area for battling (like the Battle Subway). Most should stay true to their predecesors in the real Pokémon games. Battle entries in italics and parentheses are proposals either for new Trainer classes or interesting new approaches to a classic Trainer.
Trainer Sprites
NEXT DEMO
Trainer Class

Battle Style

Battle Sprite

Alt Sprite

Overworld

Youngster
Early-game Pokémon
Warm

Cold

Lass
Cute/common Pokémon

Warm

Cold

Hiker
Mountain and Cave Pokemon or Ice Pokemon

School Kid
Cute and unevolved Pokémon.

Miner
Fighting, Dark, Rock, and Steel Pokémon

Black Belt
Fighting Pokémon

Battle Girl [Complete]
Fighting Pokémon

Backpacker [Multiple Versions]
HP-Based Pokémon often Holding Items

Young Explorers [Multiple Versions]
Unevolved grassland and forest Pokémon.

Fisherman
Water [fishing] Pokémon

Birdwatcher

[Multiple Versions]

Flying [bird] Pokémon

Rancher

[Multiple Versions]

Field and Grass Egg Group Pokémon

Bug Catcher

[WIP]

Bug Pokémon

Bug Maniac

[WIP]

Bug Pokémon

Swimmer F
Water Pokémon

Lumberjack

[WIP]

Grass and Fighting

Camper [Multiple Versions]
Woodland Pokémon

Aroma Lady [Multiple Versions]
Grass [flower] Pokémon.

Gardener
Grass and Bug Pokémon
Female

Male

Shutterbug
Electric, Bug, and cute Pokémon

PKMN Ranger Cold
Cold-climate Pokémon
Male

Female

Survivalist
Local pokemon

Psychic [Multiple Versions]
Psychic Pokémon
Female

Male [WIP]

Super Nerd
Poison, Electric, Steel, and Fire-type Pokémon

Diver [Complete]
Water [deep] Pokémon

Land Ver.

Scientist
Inorganic pokemon

Pokékid

[Multiple Versions]

Matching Pokémon

Poke Maniac

[Multiple Versions]

Monster Egg Group Pokémon

Worker
Rock, Steel, Ground, Fighting

Picnicker
Woodland pokemon

Engineer
Steel and Electric

Officer
Canine and nocturnal

Welder
Fire and Steel Pokémon

Roughneck [Multiple Versions]
Dark and Fighting Pokémon

Beauty [Complete]
Cute and beautiful Pokémon

Parasol Lady [Complete]
Water and Weather-themed Pokémon

Collector [Multiple Versions]
Rare pokemon / full party

Hobo
Urban Pokémon

Trainer Class
Battle Style
Battle Sprites
Overworld Sprites
Fire Breather [Multiple Versions]
Fire Pokémon

Clown [WIP]
Dark Gym?

Striker [Multiple Versions]
(Atk-based Pokémon?)

(Spd-based Pokémon?)

Ruins Maniac [recolor?]
Ground and Rock Pokémon

Ace Trainer M W - [Complete] C - [Complete]

Evolved and balanced team.
Warm
Cold

Ace Trainer F W - [Multiple Versions] C - [Multiple Versions]
Evolved and balanced team.
Warm
Cold

Moth Twins

[WIP]

Matching Pokémon

Matador [Multiple Versions]
Field Egg Group Pokémon [Beasts]

Tuber
Cute Water and Normal Pokémon

Pilot/Co-Pilot [Multiple Versions]
Flying Pokémon

Evo and Prevo

PKMN Ranger
Warm Climate Pokémon
Male

Female

Juggler [Complete]
Psychic and ball-themed Pokémon

Veteran [Complete]
Rare and evolved Pokémon

Surfer [WIP]
Water Pokémon

[surfing]

Illusionist [Complete]
Psychic, Dark, and illusion-themed Pokémon

Roadie [Complete]
Electric/Steel and sound-themed Pokémon

Thunder Hunter (Storm Chaser?) [Complete]
Electric and weather-themed Pokémon

Gambler [Complete]
Pokémon with luck and chance moves

Gentleman [Multiple Versions]
Pet-themed Pokémon

Lots of money rewarded

Socialite [Multiple Versions]

Elegant, classy, and pet-themed Pokémon

Tango/Dancing Partners [Complete]
Male/Female and couple-themed Pokémon

Treasure Hunter
Steel and Rock Pokémon

Idol [Multiple Versions]
Fairy Egg Group Pokémon
Warm

Cold

Contortionist [WIP]

(Humanoid Egg Group Pokémon?) (Bipedal Pokémon?)

Heavyweight
Heavy Pokémon

Cyclist

Biker [Very WIP]
Dark, Fighting, and Poison type Pokémon

Breeder F [Complete]

Breeder M [Complete]

EV-trained Pokémon with Egg moves

Merchant [Complete]
Desert-themed Pokémon

Spiritualist [VERY WIP]
Ghost, maybe Poison and Grass Pokémon

Nurse
Psychic and healer Pokémon

Burglar
Dark, Fire, and Poison Pokémon

Fashion Victim
Black-colored Pokémon

Loungers [WIP]
Only fight/appear at certain times of day. Use matching Pokémon.
Star Gazer

Sun Bather

*

Sailor [multiple versions]
Water-based Pokémon?

Poison Girl [WIP]
Poison-based Pokemon

Phony/Dubious Psychic/Dormant Psychic/PSI Maniac [WIP]
Non-Psychic Pokemon using Psychic moves/Psychic Pokemon using non-Psychic moves.

Dancer [WIP]
Female

Runner (Jogger?) [WIP]
WIP pokemons / WIP party
Warm Runner
Cold Runner

Non-battleable NPCs

| Name | Male | Female |
| --- | --- | --- |
| Parents | | |
| Friendly Rival's Parents | | |
| Player's Sibling(s) | | |
| Gym Guide | | |
| Generic NPC Adult Cold | | |
| Generic NPC Children Cold | | |
| Generic NPC Adult Warm | | |
| Generic NPC Children Warm | | |
| Generic Fat NPC | | |
| Vendor | | |
| Receptionist | | |
| Museum Curator | | |
| Train Conductor/Worker | | |
| Dreamdery Ranch Farmer | | (Sleeping) |
| Poké Mart Employees | | |
| Old NPCs | | |

Major Characters

Main Characters

Name
VS Sprite
Battle Sprite
Overworld Sprites
Simon

(Male Protagonist)

*

Sofia

(Female Protagonist)

Ricardo

(Rival)

Professor Mangrove

Sequoia

(Mangrove's Assistant)

Northington

Talah

[WIP]

Amber

[WIP]

Kruger

[WIP]

Aster

[WIP]

Pokéman

[WIP]

Bigger Version

Smaller Version

Name
VS Sprite
Battle Sprite
Overworld Sprites
Foster

Stella

Shadini

Izzie & Rachel

(Fighting and Psychic Gym Leaders)

Ashley
Ento
Tess
Sandra

Reoccurring Characters

Name
Role
Battle Sprite
Overworld
Team Aurum Grunts

[WIP]

Captain Isaac

[Complete]

Professor Calcifer Fortunei

[Complete]

Festival Boys [Complete]
Use Pokémon reflecting their colors.

Intro Sprites

| Name | Sprite |
| --- | --- |
| Mangrove | |
| Simon | |
| Sofia | |

Animation Sprites

| Name | Animation |
| --- | --- |
| Simon Throwing | |
| Sofia Throwing | |
| Sequoia Throwing | |
| Mangrove Grooving | |

Misc Sprites

varied surfing sprites

Notes:

Festival Boy names are as follows: Rojo, Anaranjado, Verde, Azul, and Morado.

Class List

Existing Trainer Classes

These trainer classes already exist in the Pokémon world. They have been suggested for use in the game. The "Cold and warm" next to the names denote clothing style.




Cool Trainer (Cold and warm)

Dragon Tamer (cold & Warm)

Expert/Veteran (cold & warm)

Team Aurum Admin/Commander


Random Idea Pitches

These trainer classes do not exist in any pokemon game and may possibly be included in the game.

Shaman (Late-game Ghost type users)

Belly-dancer (desert equivalent of Tango Dancer?)

Fencer (Mid-game trainers using Steel types and sword-based Pokemon)

Skater (Uses urban and Electric type Pokemon)

Scholar (Uni Student) Late game equivalent of school kids

Scene Kid (Edgy teenage trainer. Uses Dark types)

Hazmat Worker (Uses Poison types)

Hippie/Stoner ( Use Psychic and Grass types)

Calaca (A Mexican Spanish word for skeleton. Inspired by the costumes worn during the celebrations of the Mexican holiday Dia de Muertos, Day of the Dead. Male Calaca trainers look like Mariachis with their faces painted like skulls. The female version would wear long, antique-looking gowns and big hats. Uses Ghost types)

Tag Team - Wrestler x2, constantly switch out there Pokemon.

Blockhead (Get it? Uses grass type Pokemon.)||}|}
Ad blocker interference detected!
Wikia is a free-to-use site that makes money from advertising. We have a modified experience for viewers using ad blockers

Wikia is not accessible if you've made further modifications. Remove the custom ad blocker rule(s) and the page will load as expected.